Contact Center
now browsing by category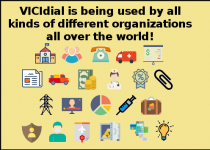 You can find VICIdial in use at thousands of different companies and organizations all over the world. From a bank in Japan to a social club in the United States, all sorts of organizations trust VICIdial to communicate with their customers and members.
Here is a small list of how organizations are using VICIdial on a daily basis to help get business done:
Inbound customer service and sales calls for small to medium size business
Hospital patients post-checkout survey
Local social club broadcasting to members
Doctor's office patient contact management: inbound/outbound/email
School district broadcast messages and parent response IVRs
Home visit nursing company, nurse visit logging and patient contact inbound/outbound
Rehabilitation facilities 24/7 crisis hotline
Political polling
Emergency response call center, operating 24/7 and taking 911 emergency calls
Fortune 500 insurance company sales agents territory-dialing clients in specific states
Debt collections, inbound/outbound
Phone call logging and redirection for lead management company (10,000+ DIDs)
Infomercial sales and service, shipping and order management IVR
Bank customer service call center
Newspaper circulation service and sales
Utility company sales, service and automated billing IVR
For more information on how VICIdial can help your organization, please contact us.